Quizzes can be added to lessons & topics, or as a final quiz to the course itself. Any combination of these will work. You can create new quizzes directly from the course builder, or pull in existing quizzes you've already created.
Course quizzes are located at the bottom of the course builder, under the "FINAL QUIZZES" heading. Lesson & topic quizzes can be found within the lesson/topic that they belong to.
Create New Quizzes
Navigate to the lesson/topic where you want to add a quiz (or simply scroll to the "FINAL QUIZZES" section at the bottom)
Click the "New Quiz" link
Type the name of your quiz
Hit ENTER, or click the "Add Quiz" button
Add Existing Quizzes
IMPORTANT
Shared Course Steps must be enabled or existing lessons, topics, and quizzes will not be available for selection.
Your existing quizzes can be found in the "Quizzes" box in the sidebar. By default, your most recent quizzes are shown, but you can click "View all" to see all quizzes, or use the search box to find a specific quiz by title.
There are multiple ways to add existing quizzes.
Add a single quiz: Hover over a quiz in the quiz box and click the "Add" button.
Add multiple quizzes: Select the checkbox next to multiple quizzes, and then click the "Add Selected" button.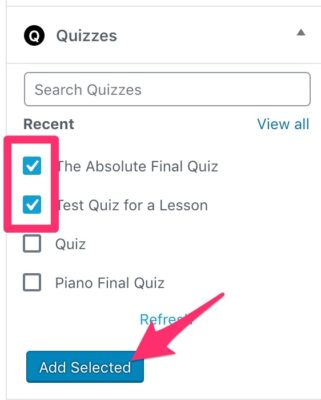 Drag & drop: If you'd like to add quizzes in a particular spot within your course, you can click & hold down your mouse, drag the quiz to the course builder in the spot you want it, and then release. This will place the quiz in your desired location within the course.
Edit a Quiz Title
Click on the title of the quiz
Make your edits
Hit ENTER or click the "Save" button
Edit Quiz Settings & Questions
If you'd like to edit the quiz settings and/or quiz questions, click the blue "Edit" link that appears when you hover over a quiz.
NOTE
You can open this link in a new tab so you can easily return to the course builder without losing your place.
Remove a Quiz
Hover over the quiz you'd like to remove, and click the red "Remove" link.