Passive & Active Imaging Techniques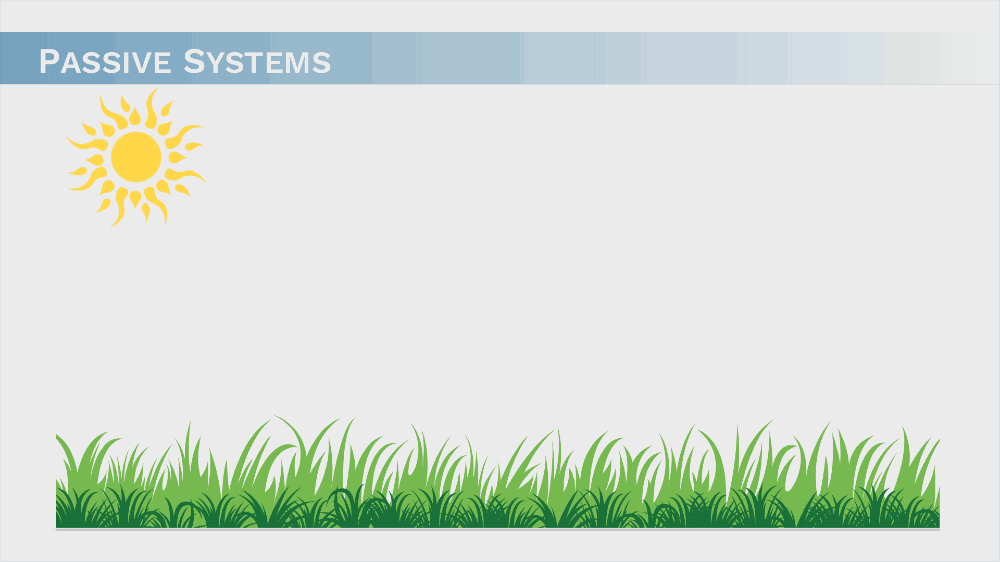 Learning objectives of this topic
Acquisition characteristics of passive remote sensing
Need for passive remote sensing
Passive remote sensing instruments
Daytime dependence
In this topic, we will introduce the first of the two different acquisition strategies that exist to monitor land surfaces across the globe. First, we will take a look at optical and microwave remote sensing techniques that make use of the radiation originating from the sun.
Generally, passive instruments do not send pulses at any wavelength themselves, but solely rely on naturally existent radiation. Unlike active systems, they are not capable of streamlining EM energy of their own to a given target on the Earth's surface. Passive optical sensors can only acquire data during daytime. Without natural energy, there is nothing that can be reflected across the surface and consequently be 'bounced' back to the sensor. Atmospheric effects that affect the amount of daylight that reaches the ground also impact the quality of data acquired by passive sensors.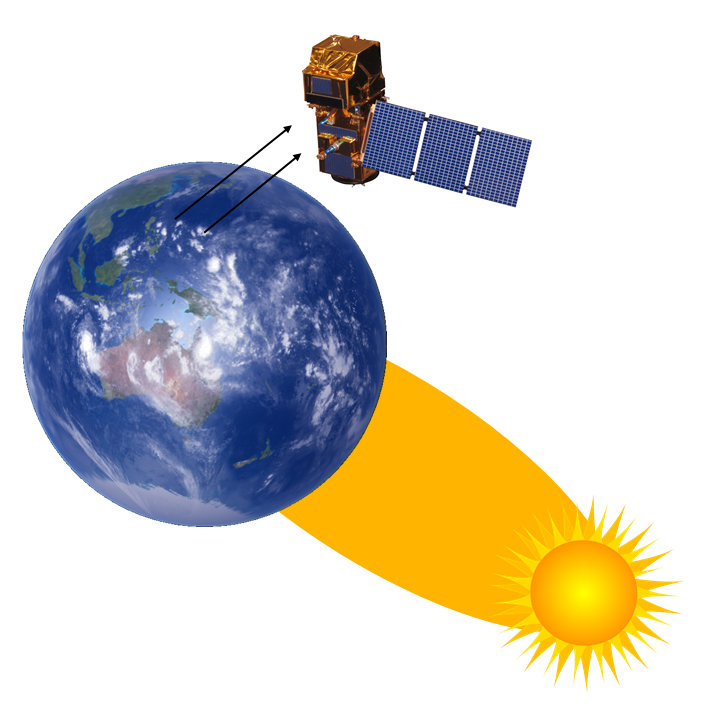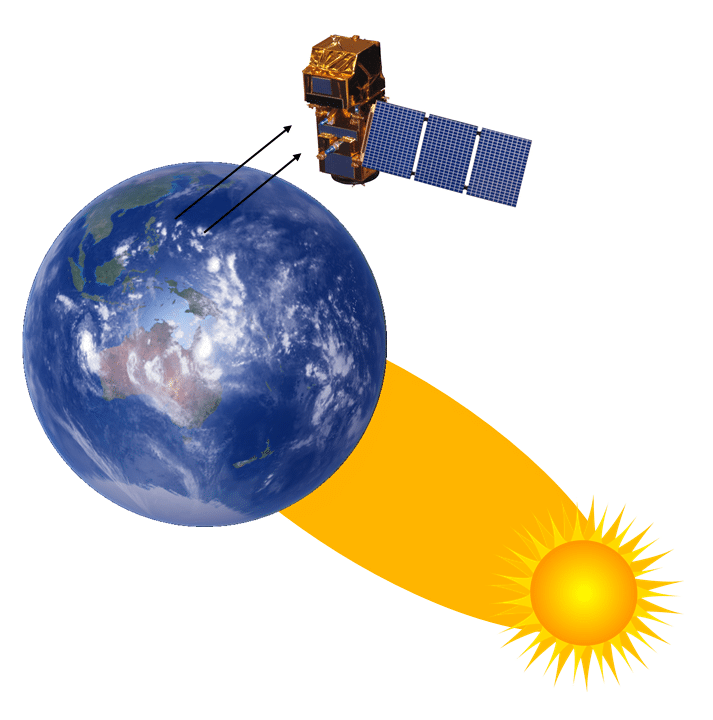 Types of passive remote sensing instruments
Most passively working sensors utilize multispectral or hyperspectral sensors. What does this mean?
Multispectral
Multispectral (MS) remote sensing instruments record data in multiple spectral bands. The first multispectral satellite in space was the Landsat's Multispectral Scanner (MSS) back in the late 1970s. Recording in four spectral channels (blue, green, red, near-infrared), these data were of significant value for vegetation analysis in this time. State-of-the-art multispectral sensors like Sentinel-2 are the basis of exploring dynamics across the globe. With 13 spectral bands, high repetition rates and a spatial resolution of up to 10 m, the Sentinel fleet brought non-commercial remote sensing into a new era.
Hyperspectral
Hyperspectral systems outnumber the amount of spectral channels of MS sensors by factors of 10 or even more. The idea is to provide information in many more bands that cover a much smaller portion of the EM spectrum. This leads to more characteristic and distinct spectral responses that can be retrieved for land cover types or use classes. Hyperspectral sensors usually feature narrow bands with widths between 10 – 20 nm that are able to capture small spectral differences, which a multispectral instrument could not sense.
In the video below, more details of the concept of optical remote sensing systems are explained by Dr. Harm Bartholomeus from Wageningen University.
---
Passive microwave sensors
While commonly used optical sensors work passively, there are also microwave instruments that do not provide their own source of illumination. Most radar sensors are able to produce interpretable data independent of the time of day. This is not the case with passive microwave sensors, which use the naturally available microwave radiation (Earth's emissions).
The underlying assumption, on which passive microwave remote sensing is based, is that every object that has a finite temperature is constantly radiating energy. This idea has to be true to fit the principle of thermal equilibrium.
---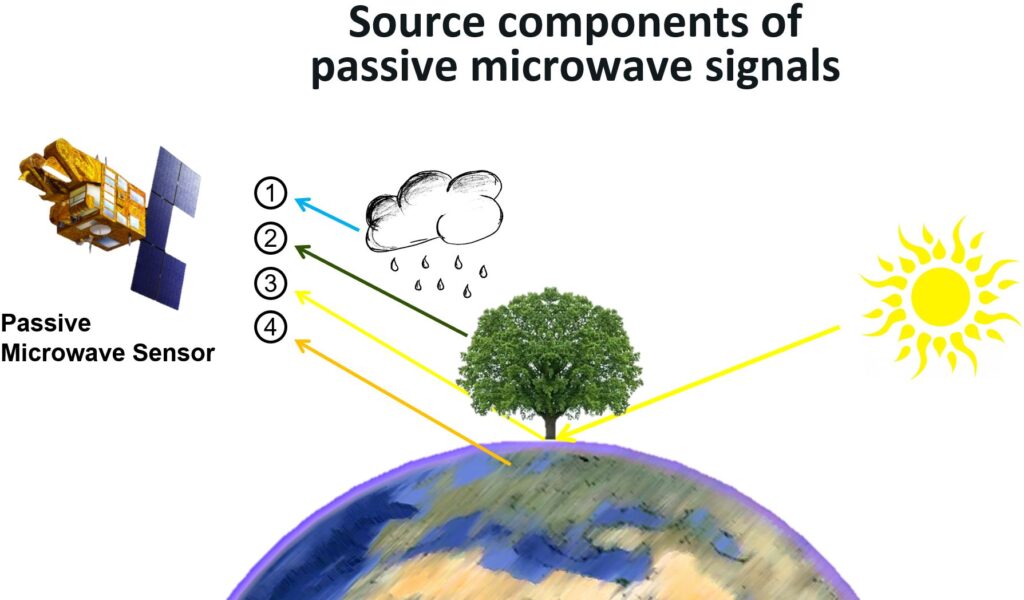 As visualized in the figure above there a number of key sources of passive microwave signals that we can measure:
(1) atmospheric emissions,
(2) object emission (depending on surface temperature of a given object),
(3) surface-reflected component and
(4) transmitted subsurface component.
---
Need for passive microwave remote sensing
Passive remote sensing instruments are of great interest for the monitoring of essential parameters related to hydrologic modeling and observation such as soil moisture estimation, precipitation, ice water content or sea-surface temperature analysis.
Example application: Capturing dynamics in sea ice using the Advanced Microwave Scanning Radiometer 2 (AMSR2), which operates from aboard the Japanese 'Shizuku' GCOM-W1 satellite. The passive microwave instrument allows the daily observation of ice-related characteristics in ecosystems that are severely threatened.
---
List of passive instruments
Below, you can find two animations that present a selection of the most important remote sensing sensors that can be found in the passive remote sensing domain.
Optical sensors
---
Radar sensors
---
Sources & further reading
Adão, T., Hruška, J., Pádua, L., Bessa, J., Peres, E., Morais, R. & Sousa J.J. (2017). Hyperspectral Imaging: A Review on UAV-Based Sensors, Data Processing and Applications for Agriculture and Forestry.
Edmund Optics (2019). Hyperspectral and Multispectral Imaging. <https://www.edmundoptics.de/knowledge-center/application-notes/imaging/hyperspectral-and-multispectral-imaging/>
Elachi, C. & van Zyl, J. (2015²). Introduction to the Physics and Techniques of Remote Sensing. Hoboken, USA: John Wiley & Sons, Inc.
---
Active RS systems
Benefits of active Remote Sensing Systems
What is an active Remote Sensing System?
Benefits of active Remote Sensing Systems
---
---
The scattering mechanisms in more detail
Specular reflection
Surface scattering
Double bounce
Volume scattering
---
Scatter models
Field scenario
City scenario
Snow scenario
---
Historic excourse: 30 years after the start of ERS-1, ESA's first SAR sensor in space.
---
Other sources of active imaging – LiDAR
---
---