Dielectric Parameters Copy
Dielectric properties
Dielectric properties of a target describe its relative permittivity. The related dielectric constant is a measure of the electric characteristics of any surface material. It consists of two parts (permittivity and conductivity) that are both highly dependent on the moisture content of the material considered. Consequently, the amount of energy that is scattered at surface level depends on how much energy penetrates into the medium and how much is absorbed by the radar target.
With changes in the amount of liquid water that is stored in soils, vegetation or other radar targets, we can also observe variations in radar reflectivity. Thus, there is a strong relationship between radar backscatter, precipitation, soil moisture as well as plant health.
Dielectric constant
The term dielectric constant describes the electric permittivity of a given material as a ratio, relative to the permittivity of a vacuum. It is directly related to the water content of an object or surface, as well as the material.
The term dielectric constant can be misleading, since it is not constant over various materials, only for a specific material or object. Keep that in mind when you think about this parameter.
Dielectric constant of common land cover surfaces
Below you can find a table displaying common surfaces and land cover types as well as their respective dielectric constants.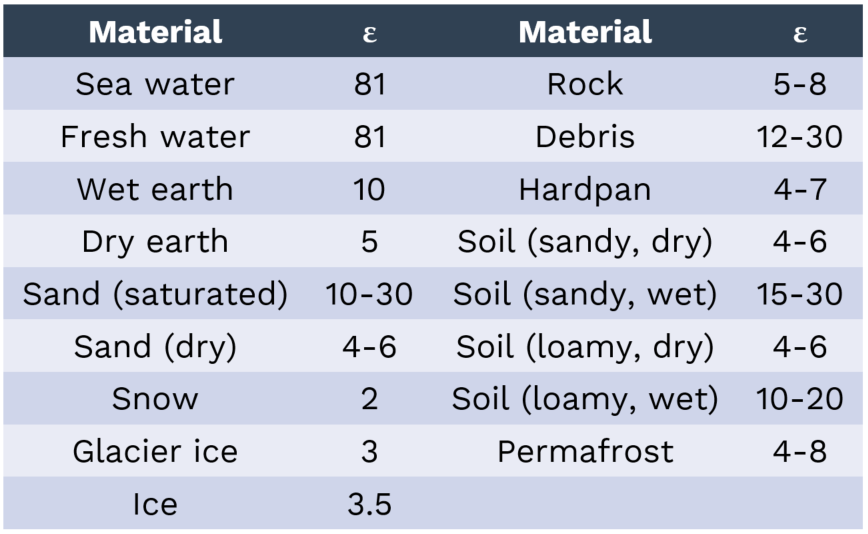 Dependence of dielectric properties and wavelength

Between the two SAR parameters dielectric constant and wavelength exists a substantial relation that defines the strength of the radar echo we are measuring.

How strong the moisture content of a radar target influences the backscatter is therefore also relying on the wavelength that is utilised. For a fixed soil moisture content different wavelengths will also penetrate the soil with varying depths.
---
The influence of soil moisture on the radar backscatter
Soil moisture measurement using radar
---
The influence of the dielectric properties of vegetation on the radar backscatter signal
---
---