Monitoring our food resources
According to FAO, approximately 800 million people on Earth do not have enough food, despite the fact that more than enough food is produced worldwide. World hunger and the management of food resources is therefore still one of the major challenges that mankind is facing in the 21st century.
Radar has a large potential to monitor the state of our agricultural production. Therefore, it can contribute to a higher level of food security worldwide.
In this topic you are going to learn in which application fields radar data can support agricultural monitoring.
Space & Food
This is a short video, demonstrating the potentials of space technologies for food security.

ESA Space & Food
Be it in space or on Earth, food is a key element in supporting human life. But food availability is one of the biggest challenges we have to face everywhere around the globe, not only in terms of quantity but also in terms of quality. Space can be a strong ally to help humanity to develop more sustainable lifestyles, and use the best technology to create a balance between the availability and the consumption of resources. Satellites are definitely a major asset helping us to build more sustainable food systems on Earth. Moreover, the challenges of astronaut food set the best lifestyles example with regards to challenging food management situation and the research to enable food production in space is a way towards new highly efficient agricultural systems.

ESA Space & Food
Popular applications
Crop type mapping
One prerequisite of a sustainable management of food resources is the knowledge about the available agricultural areas and the crops that are growing on each field. In order to be able to map crop types on a large scale, remote sensing methods need to be applied. Radar remote sensing enables the distinction between different crop types, based on their backscatter properties and their behaviour over time.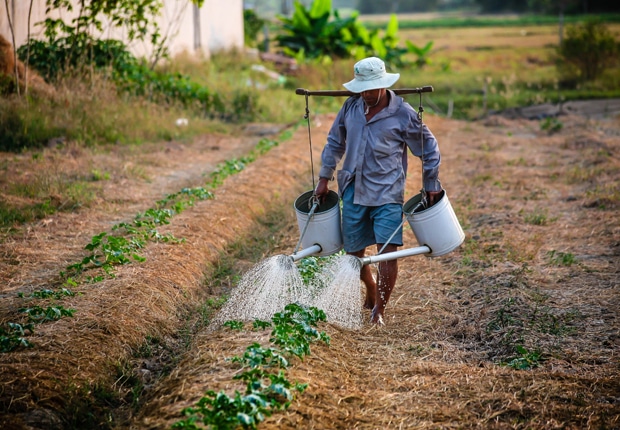 Crop monitoring
In addition to information about the type of crops that are growing on our fields, radar data can also help to gain information about more specific parameters about the health and state of the crops. Crop monitoring enables the estimation of yields and the estimation of losses due to logging, flooding, pests etc. Remote sensing also enables a large scale precision farming, for specifically targeted irrigation and the allocation demand of fertilization.
Soil parameter retrieval
Information about the soil is crucial, even before crops are planted. Reduced soil productivity due to droughts, floods etc. can have devastating consequences for the future crop yield. Radar data provides information about the soil conditions, such as moisture content, vegetation cover residues or prediction of optimal tillage practises.
More details
The resource repository holds a comprehensive presentation for a deeper understanding of agricultural mapping with radar.
We recommend the lecture of these resources for users that want to delve deeper into the topic.
Rice crop evolution in the Mekong Delta
This animation shows the development of rice fields in the Mekong Delta over time.

CESBIO ESA DUE GEO-Rice Innovator project
A significant area of rice paddies in Vietnam's Mekong River Delta has been reduced through drought and saltwater intrusion caused by El Nino. In March 2015, about 1.67 million hectares were mapped by the Sentinel-1A satellite. Year later, about 1.39 million hectares were mapped, showing a 16.7% loss in rice area over the year.

CESBIO ESA DUE GEO-Rice Innovator project